Mexicans at Work with Dr. Ruben Espinoza
Heartbeat of Mexico: Big Ideas
Thursday, April 19, 2018
6:00pm - 7:30pm
2018-04-19 18:00
2018-04-19 19:30
America/Los_Angeles
Mexicans at Work with Dr. Ruben Espinoza
LL B3 Leatherby Libraries B3 - Center for American War Letters
Dr. Ruben Espiznoza
respinoza@chapman.edu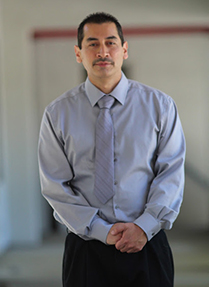 Mexicans at Work
How Mexican Ethnicity Becomes Part of the Workday

Dr. Ruben Espinoza
This talk examines the role of Mexican ethnicity in the Salinas Valley's bagged salad industry. Most workers in salad-processing factories are Mexican migrants who have permanently settled in the Salinas Valley. Even though they labor in a strenuous, frigid, fast-paced environment, their ethnic solidarity permeates throughout the workplace. This presentation highlights how Mexican music, food, jokes, and celebrations become part of the culture of work in the Salinas Valley.
• 4/25 Día de los Muertos with Dr. Rafael Luévano
• 4/26 Where is Mozlandia? with Dr. Melissa M. Hidalgo
• 5/3 Booming Bandas of Los Angeles with Dr. Xóchitl C. Chávez
• 5/10 The Trailblazing Women of Mariachi with Dr. Leonor Perez
Heartbeat of Mexico: Big Ideas
A free, public series exploring the depths of Mexican and Mexican-American culture by top academics in the fields of Mexican Studies, Religious Studies, and Music leading to Heartbeat of Mexico free festival at Chapman University on May 27.
Co-sponsors: Chapman University's Latinx Staff and Faculty Forum, Musco Center for the Arts, Cross-Cultural Center, and Leatherby Libraries
---
A Musco Center World CAFE Event