FRDLE Friday Discussion
Join our Weekly Future Ready Digital Learning Experience Meeting
Friday, November 9, 2018
11:00am - 12:00pm
2018-11-09 11:00
2018-11-09 12:00
America/Los_Angeles
FRDLE Friday Discussion
The TechHub DeMille Hall 104
Sheryl Hathaway
shathaway@chapman.edu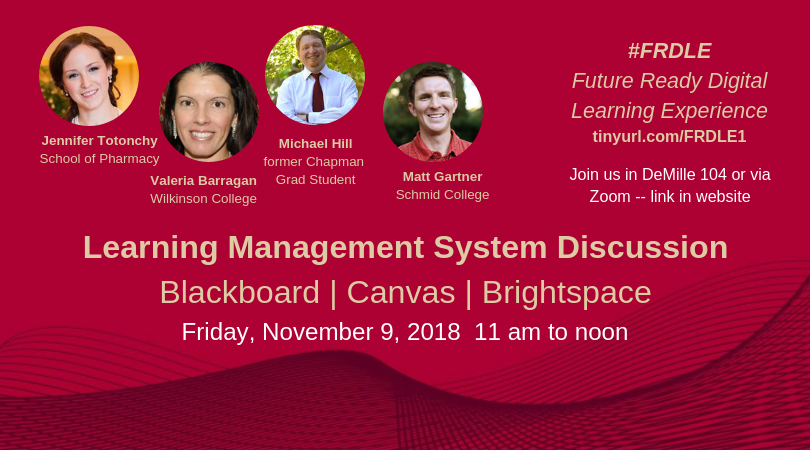 Visit our panel discussion and hear from Jennifer Totonchy, School of Pharmacy, Valeria Barrigan, Wilkinson College, Michael Hill, a former Chapman University graduate student, and Matt Gartner, Schimid College, as they discuss their use of the Blackboard Learning Management System and what they are looking for in a Future Ready Digital Learning Environment (FRDLE).
You can help determine Chapman University's next FRDLE by bringing your questions, thoughts and insights to this upcoming informational, interactive, ideation session!
Join us for Friday morning coffee conversations October through December (11:00 am – 12:00 pm) for ongoing, campus-wide, Learning Management System future-ready discussions and presentations at the Orange Campus Tech Hub, DeMille 104. In these open forums, we will be discussing Blackboard Ultra and other future ready learning management systems. On weeks there will not be a panel discussion, there will be sandbox demos and other hands-on activities.
If you cannot join us in person, please join us virtually: LMS Event Video Conference Link
An up to date schedule of events and curated resources can always be found at the Educational Technology Service FRDLE site: https://sites.chapman.edu/chapman-lms/ All of sessions will be live streamed and only presentations recorded through Zoom web-conferencing.
INVITATION: If you are a faculty, staff, or student who would like to share your experience in a panel/presentation, or would like to formally participate in the FRDLE: Future Ready Digital Learning Experience committee, please send an email to edutech@chapman.edu.