Bb LMS Review: Hands-on Sandbox Event
Ultra, Brightspace, & Canvas)
Thursday, December 6, 2018
1:00 p.m. - 4:00 p.m.
2018-12-06 13:00
2018-12-06 16:00
America/Los_Angeles
Bb LMS Review: Hands-on Sandbox Event
The TechHub DeMille Hall 102
Sheryl Hathaway
shathaway@chapman.edu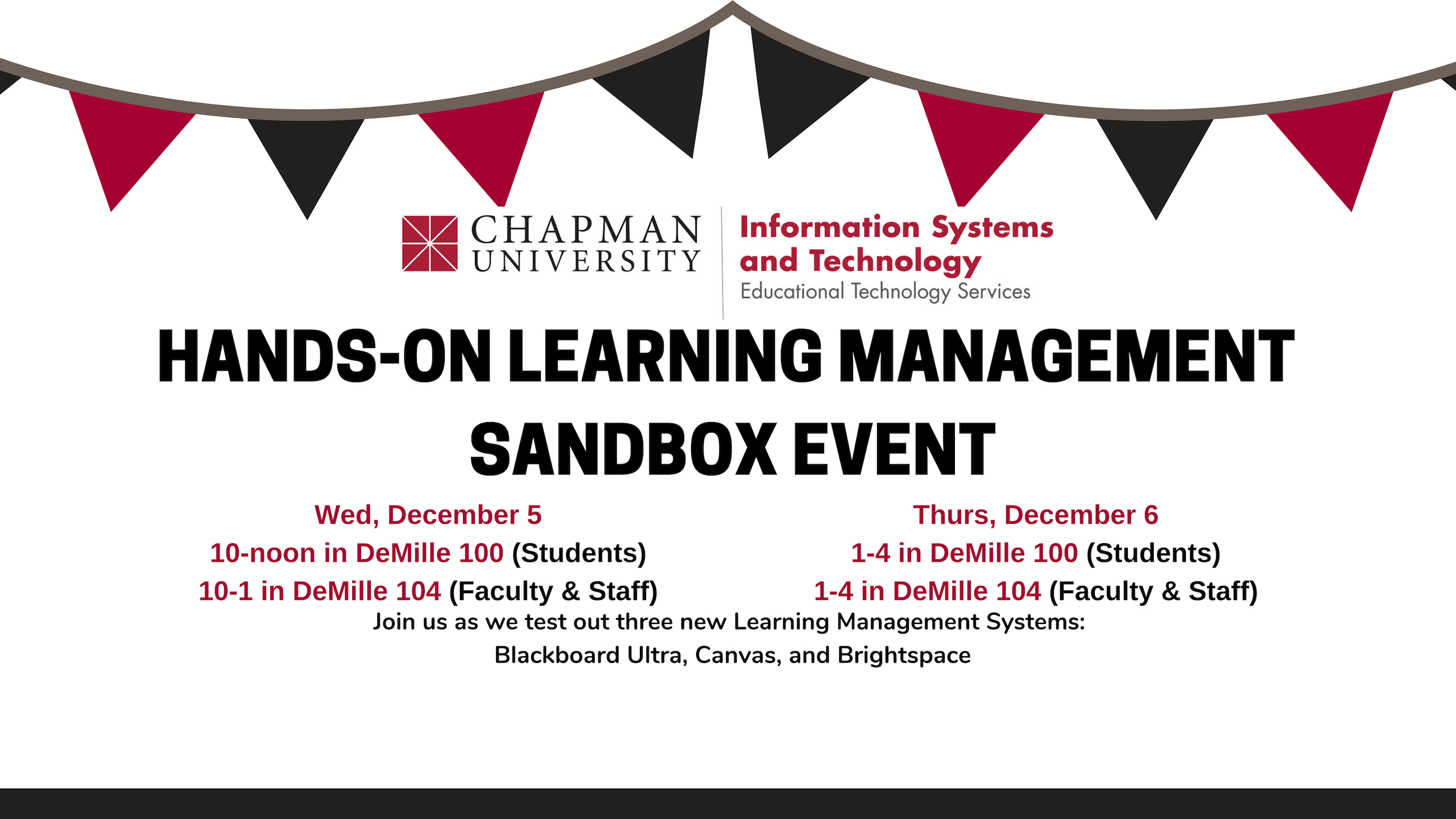 On Dec 6, between 1pm-4pm, the Tech Hub will host an LMS Review Sandbox Event. There will be three (3) rooms, three (3) support staff, and three (3) LMSs -- Bb Ultra | Brightspace | Canvas. Choose to try one, two or all three Learning Management Systems!
Every 30 minutes there will be a change in hands-on activity:
10:00 am
Create an announcement
Create or upload course content/material
Organize/Edit content
Create a discussion for students and grade posts
10:30 am
Create an assignment, and grade sample assignments
Provide audio/video feedback on an assignment
Create a quiz, and grade sample quizzes
Create a grade column
11:00 am
Send an email/message to students
View the course like a student
View student roster
Take attendance
10 am – 12 pm
Bonus: Student Activity (iPad/Tablet/Mobile)
Mobile Apps – Take a quiz; get feedback
Mobile Apps – Check grades
Mobile Apps – Upload an assignment
Note, sessions repeat again at 11:30 am, with schedule subject to change depending on audience questions and requests.
At the end, leave with your own LMS sandboxes to further experiment with the three modern learning environments!
Register here to receive the most up to date information, Zoom web-conferencing links and event schedule. For more information, contact edutech@chapman.edu
Feel free to bring a friend!